EMPoWER Young Research Advisors
The EMPoWER project is investigating whether providing powered mobility for very young children (under aged 5 years) provides more benefits than waiting until after children are aged 5 or older. We want children and young people to understand and influence the project. To achieve this, we are delighted to be working with AniMates.
AniMates is a group that makes artwork to shape and share research projects. The group includes seven young people and young artists aged 16-21 years, an interdisciplinary artist and creative producer, and a researcher. AniMates members have experience of living with physical, communication, or learning disabilities, or supporting people who live with disabilities. Three members use powered mobility themselves.
AniMates has three jobs during the EMPoWER project:
Help the project team to include the views of young powered mobility users
Find creative ways to explain how the project has been done, and what the results are
Help NHS and research bosses to decide how to use the results of the project
How are they going to do this? The clue is in the name! AniMates specialises in making interesting animations about research projects. Young people and decision-makers have something in common: they both like to use examples, case studies, and stories to bring research to life. Animations are a good way to do this. To help make the animation, colleagues at Designability will invite young Wizzybug users aged under 5 years to send in drawings and photographs about their experiences of powered mobility.
AniMates members recently created two EMPoWER logos. This was a good way to start exploring the project. First, Holly and Beth came up with keywords about the project, including movement, speed, electricity, power, and strength. They sketched some initial ideas: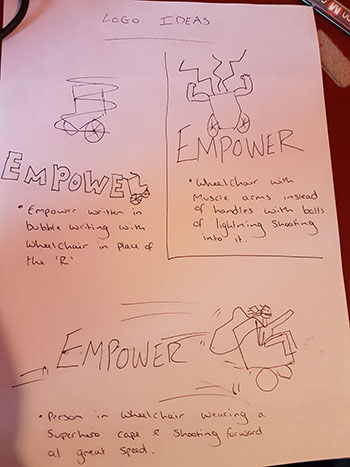 Next, Nico and Ria developed the ideas into rough logo designs, and finalised the ones that worked best – you can see them in colour below. We'll use the logos throughout the EMPoWER project.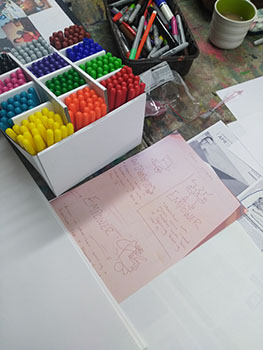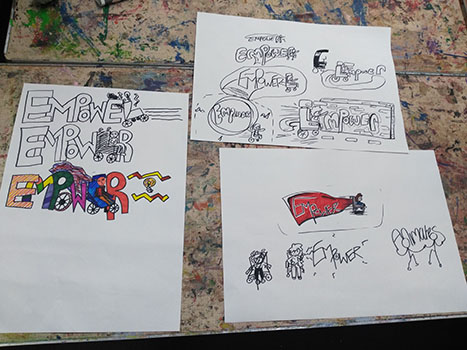 AniMates are next getting together in June 2018, when they will start to explore the EMPoWER project in more detail. Over the course of the project, we will introduce individual AniMates members, and keep you up to date with their activities.