Meet the EMPoWER PPI Co-Investigator Aimee Grayston!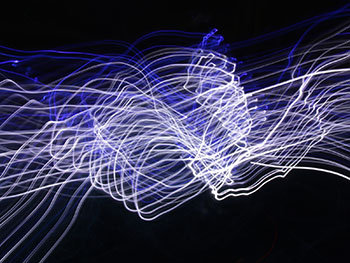 My name is Aimee Grayston. I was delighted to get involved in the EMPoWER project. I have a condition called cerebral palsy, which means that I am unable to walk and talk, and that I have a lack of function in my arms and hands. Since I was about the age of 5 years old, I have been using powered mobility to get around. Therefore, I have a personal interest in the research question, which made me want to be involved in helping to answer it. I understand the benefits and challenges of using powered mobility. I believe that having someone who used powered mobility during her childhood assists the research team. Although the team has some knowledge about the topic, they have not been a child who used powered mobility to get around. Therefore, I bring a unique perspective on the topic. I hope to put my experience and knowledge to positive use during the EMPoWER project.
So far, the team has been really good at listening to and considering my views.    Although I am not familiar with the field of research, they have treated me like a valued and respected member of the team, like everyone else. Whilst doing that, they have educated me about the field of research. For instance, before I began working on the project, I did not really have an idea about what is actually involved in researching an issue, such as how a protocol needs to be developed in the beginning to explain how the research is going to be done.    Now I do.
The team has also been accommodating about my needs because of my disability. They want me to be able to play a full role in the project, which is excellent. An example of how they have accommodated my needs is when we have our monthly meetings. I use a head switch connected to my communication aid to type out what I want to say, which takes me quite a long time to do. Therefore, I quite often fall behind during conversations. To help with this, the Primary Investigator labels each item on the meeting agenda with a letter from the alphabet. During the meetings, I type a letter, and the team know I want to go back to that previous item on the agenda. This is easier and quicker than me having to write, "can we go back to the previous point about….".   
Besides being involved in EMPoWER, I am also doing an open degree with the Open University. An open degree allows students to select a variety of modules to study. So far, I have selected modules about health and social care. When I have completed my degree, I am considering having a career in either health and social care, or research, or both of these sectors. I thought being involved in EMPoWER would boost my understanding of what working in these fields entails. I thought it would help me gain experience of working in the research sector, improving the lives of children and young people with disabilities. So far, being involved has certainly done this.   
As well as doing my degree, I am also a volunteer for Children's Services at Leeds Community Healthcare NHS Trust.  In this role, I provide a perspective from an ex-service user on matters that affect children and young people with disabilities. To give you a couple of examples of the work I have done whilst being in my role, I have developed a presentation about my experiences of inclusion at my primary school and high school. I have presented this piece of work on numerous occasions, to practitioners, decision makers, and local politicians. I have also created a film about my perspective on how to move and handle children and young people in a safe and dignified way. The film is going to feature on the Trust website. That way, everyone who supports children and young people can view it. 
One of my roles in EMPoWER is to work within AniMates, a group that makes artwork to shape and share research projects. What I believe to be good about AniMates is the refreshing combination of thinking academically and creatively, and that the members have almost full control over the artworks we produce. We will be making animated films capturing the key methods and messages of EMPoWER. Similar to the benefits of me being part of the EMPoWER study team, having a group of young people creating animations, which are based on things related to them, brings new perspectives to the topic. Because we all have relevant experience, we understand what is essential to include.
Animates is an opportunity to get artistic. Speaking personally, I have never had the chance before to do the sorts of creative activities we have done, such as painting with light (you can see my light painting below – credit to Lucy Barker, interdisciplinary artist and creative producer). When AniMates originally started, we made fun 'teaser' films to get into the creative side of things. You can see mine below (I'm also a Boyzone superfan in my spare time! Credit once again to artist Lucy Barker). All of these opportunities have been fascinating and rewarding. I say rewarding because doing these activities means you are doing something meaningful, which is going to help to improve people's lives. Also, AniMates gives its members a chance to socialize. Despite being dedicated to our work, it is a very laid-back and sociable group. For example, every time we meet up, we spend the first 10 minutes of the session catching up with what everyone has been doing. The social aspect of the group makes being a part of it even more pleasurable.
Overall, working on EMPoWER is making me realise that research influences how policies are made, and why practitioners make the decisions they do. Before this experience, I did have some understanding of this, from doing my degree and volunteering for children's services. However, the EMPoWER project is furthering my understanding of this, and making me appreciate why things are the way they are in the health and social care sectors. I am certain that I will develop more new knowledge and awareness about things as the project progresses.